Summer People
This is a mixed-media project I started back in 2017, during my endless summer project, a year of following the sun around Australia. It began as beach sketches but soon transformed into fun instagram-like small square canvases (20 by 20cm). Instagram is probably the way most people see images these days and they tend to scroll and flick through, leaving the image square but putting it on a canvas dares people to stop and actual look! I had noticed that "family beachwear" was so often based on fluro colours and thus I used acrylic paint in the classic fluro colours, on a background of typical beach colours (sky blue, deep blue and viridian for the sea and creamy/yellow sand). The people themselves are anonymous and blank because after summer the beach will be empty again. Finally I added ink line work using indian ink and a handmade reed pen to emphasise the fun and hand drawn aspect.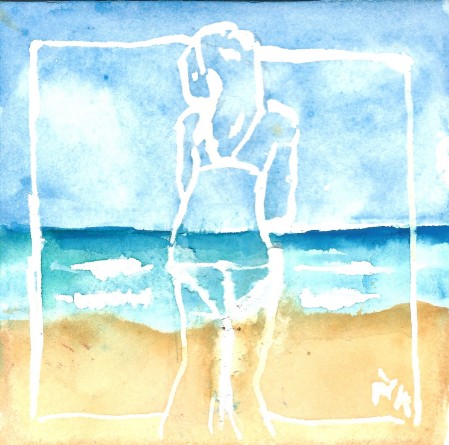 The Lockdown Summers
The covid19 pandemic and resulting social distancing measures, including Melbourne's "ring of steel" meant very few people were able to visit the beach in 2020/2021 and significantly reduced before Christmas 2021.
The beaches and the natural world was still there and triving. Perhaps taking a sigh of relief at our absence. People were largely missing physically but a lot were still there in spirit. So I returned to the idea of painting the beachscape but with the humans just as white outlines, rather than just anonymous black figure.